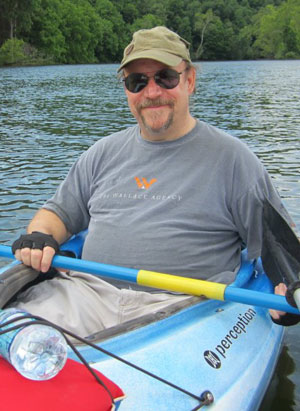 John enjoying his favorite thing—kayaking!
JS3 Design, LLC is primarily the work of John Sours. John has been designing and producing a wide variety of Print and Web media for over 30 years. John also has a network of professional photographers, editors, and printers he taps into when the project dictates a need. The client list for JS3 Design is made up of small and large businesses, both governmental and private-sector.

He considers himself a Graphic Designer who also creates Websites. The latest projects are WordPress websites. Upon completion clients take ownership of the site to make changes and upgrades on their own with little or no ongoing help from JS3 Design. This not only saves the client money, but also empowers them to use their own creativity and problem-solving skills to produce exciting results.

If your company can benefit from an improved branded look, or professionally designed print or web projects Contact Us. At JS3 Design we strive to ensure that the visual presence of every client is professional and strong, and an accurate representation of the client.